Dragan Boards
Regular price
Sale price
€445,95
Unit price
per
Sale
Sold out
Follow Simon on IG: @simontjohns
Simon Johns is a name you might be familiar with if you've been around the streetboarding world for a while. 
With over two decades worth of experience, Simon found his niche pushing the boundaries of technical rail riding with a long list of iconic tricks.
Whether it's a famous street spot or your local skatepark flat bar, you can be sure that Simon will want to leave a mark with his repertoire of difficult tricks that he's meticulously dialed in over the years.
Simon has a broad taste in heavy metal music that can be heard pumping from his car stereo too and from the spot. With this in mind, and the talent of streetboard legend and artist, Jack Johnson, the "Storm Fiend" graphic was born. 
Drawing inspiration from both Viking and power metal music and artworks, this high-energy board will give you the confidence and performance to take you and your riding on an epic quest, to the next level. 
Follow the artist of this incredible board: @docprofess
Share
View full details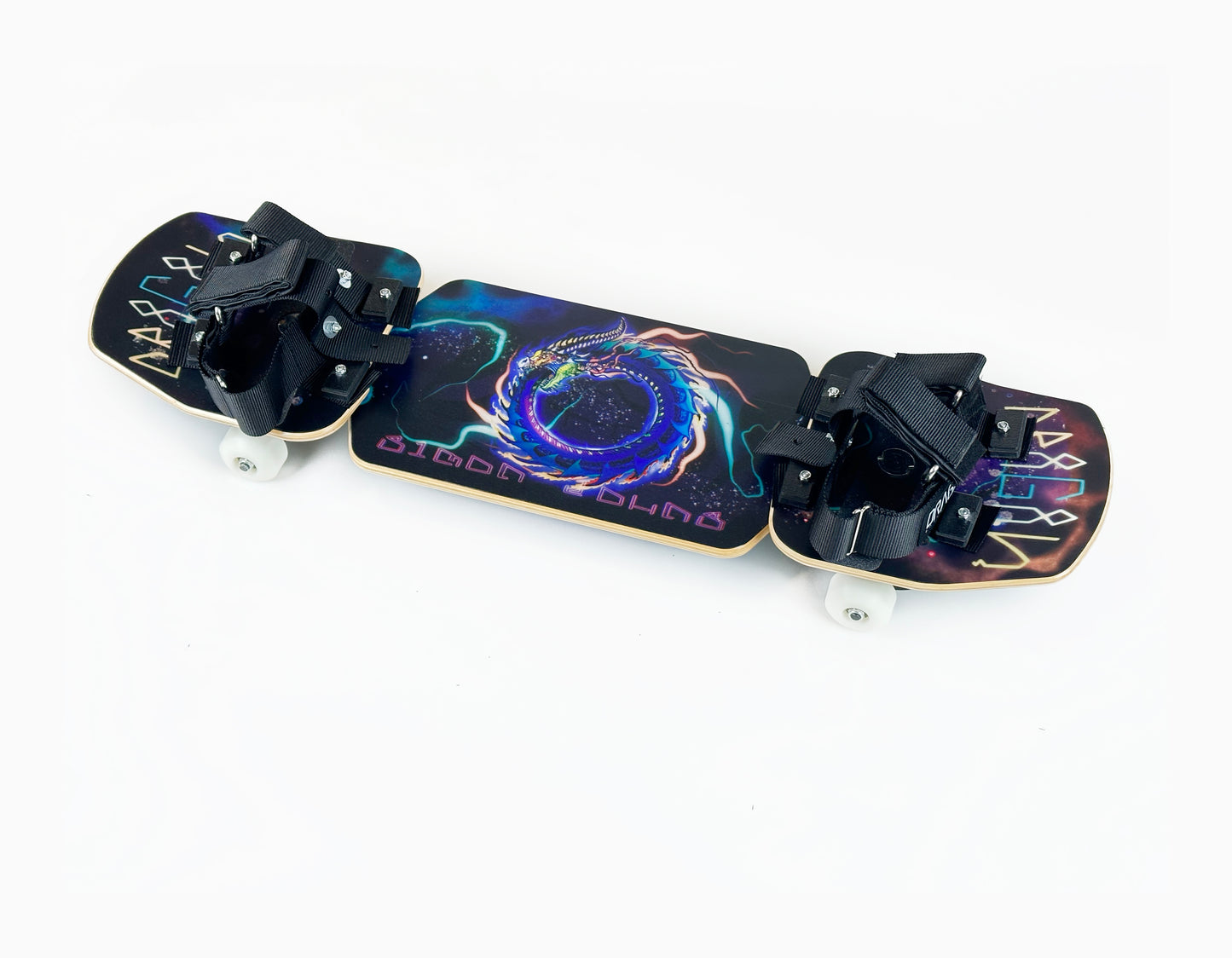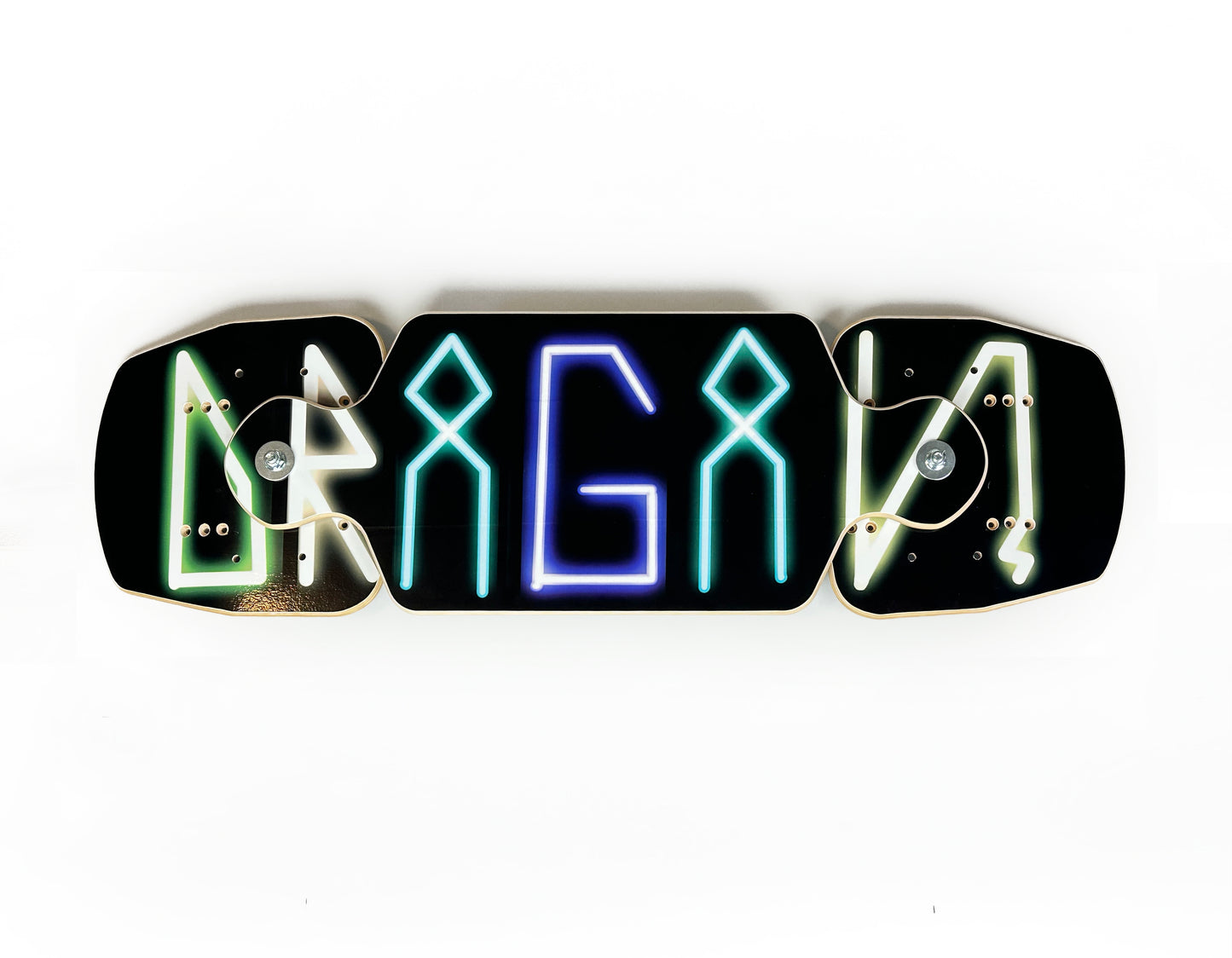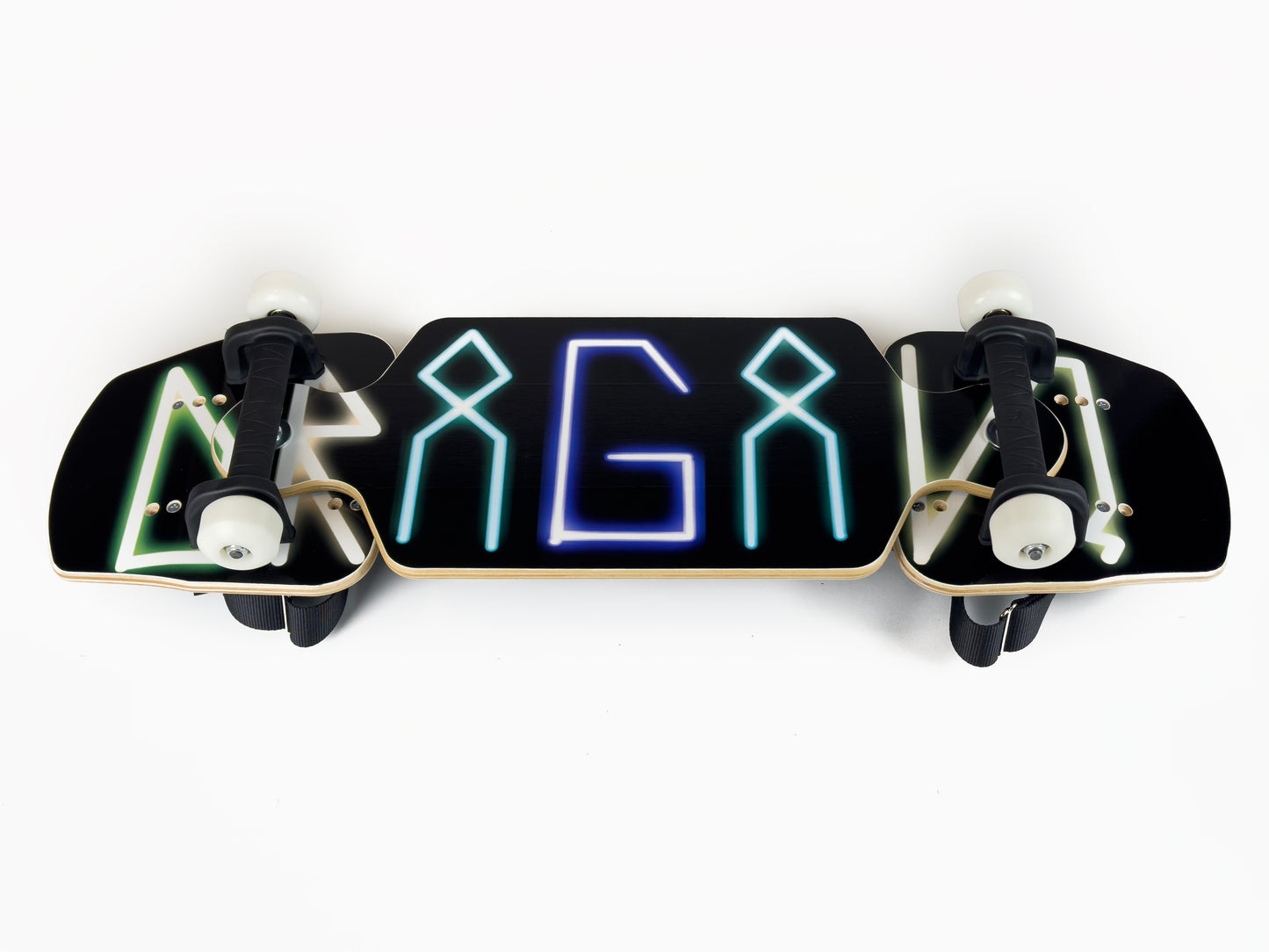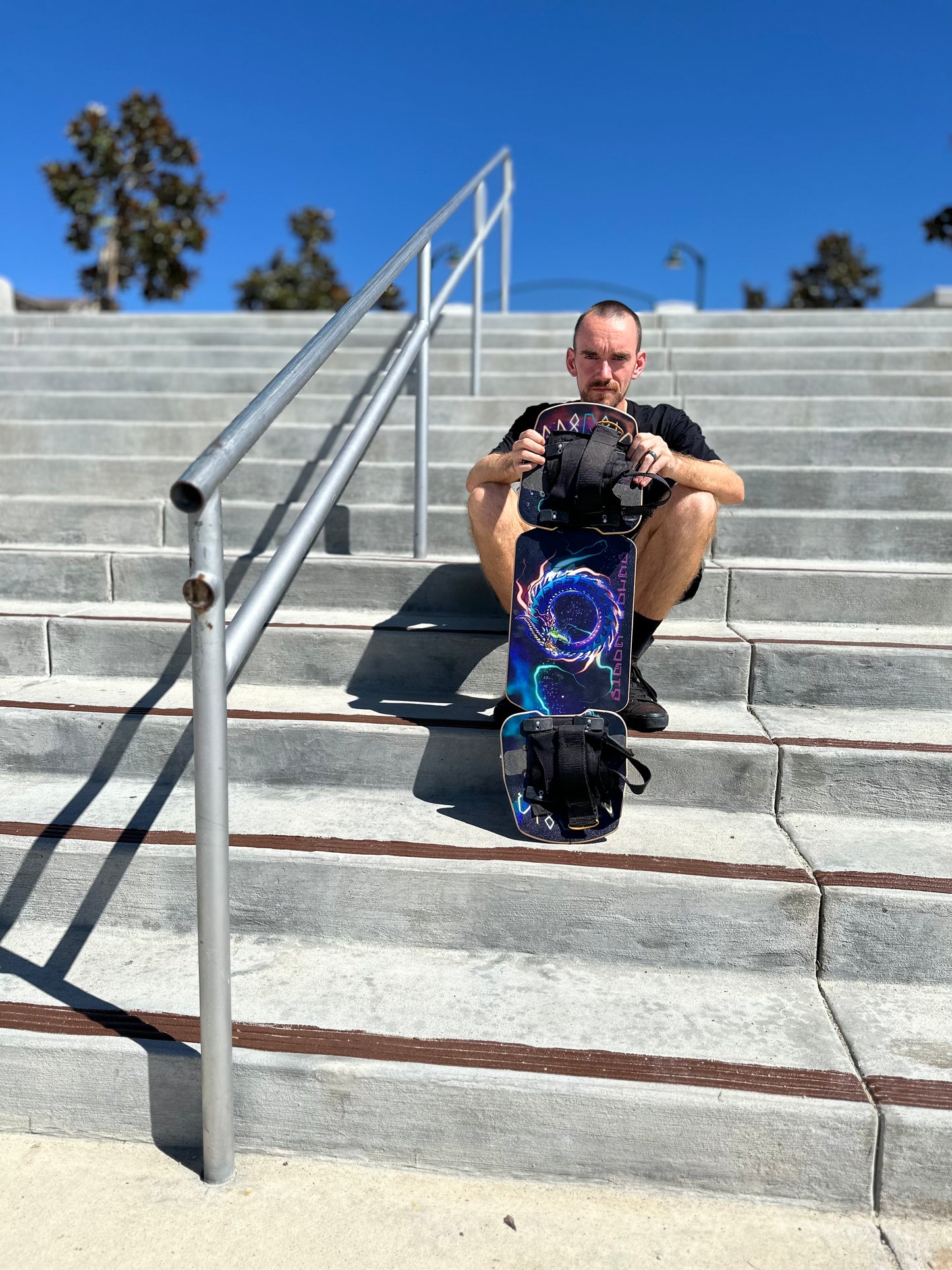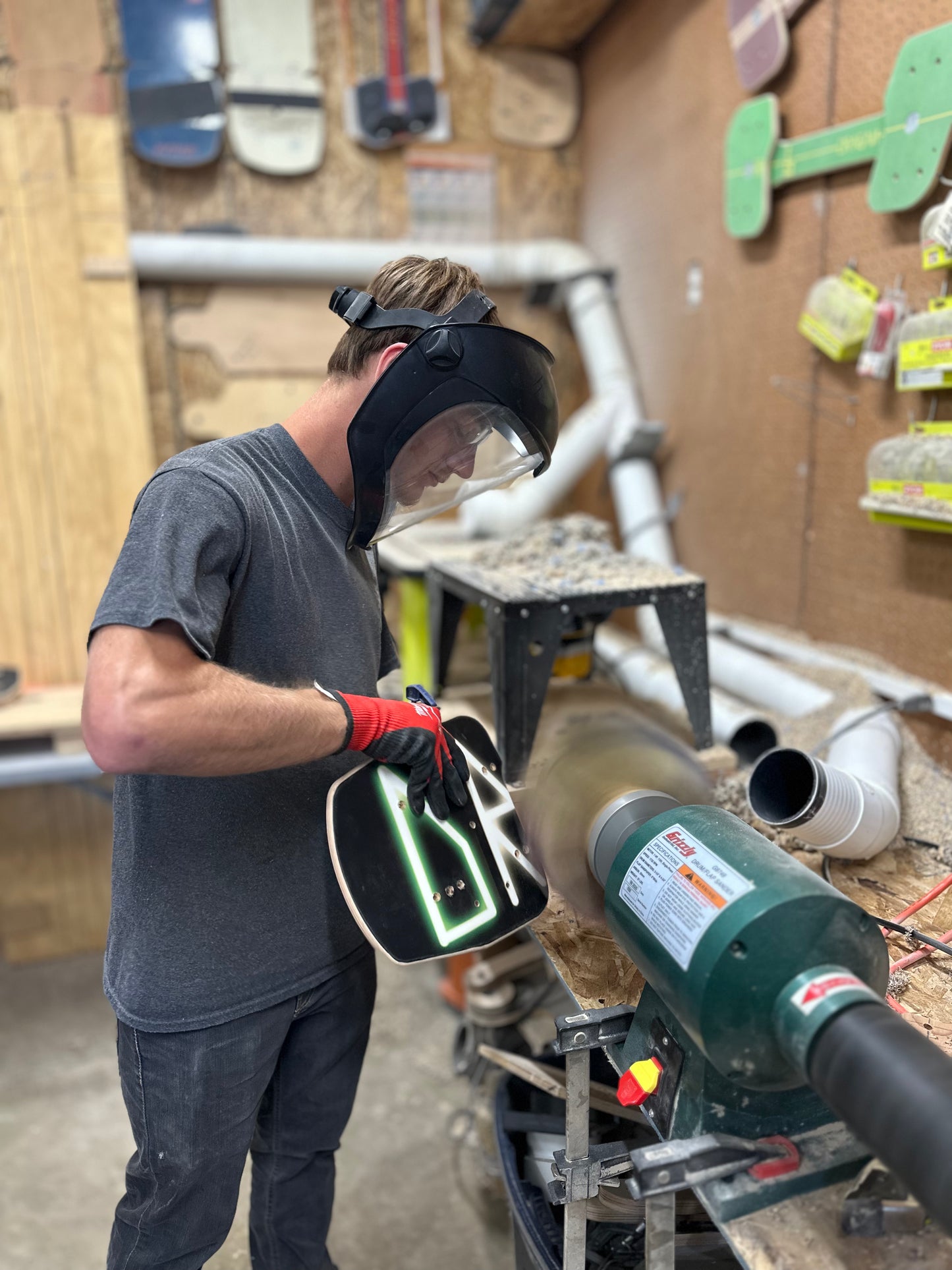 Product Details
Stance

The Pro stances are measured in millimetres and reference the width between the center of the footplates.   We recommend the 540mm for most riders, especially if its your first streetboard, as it will be easier to learn the unique movement.  The 560 is only suited to taller more advanced riders over 6ft (1.83m).
Bundle Options

The Ready to Ride: The footplates, crossbar (540mm or 560mm Stance options) the Keyless Kingpin System, Quickset Bindings, SLT Trucks and wheels and bearings.

The Board Only:  The footplates, crossbar (540mm or 560mm Stance options) and Keyless Kingpin System.
Features

Kingpin: Lightweight 8mm Keyless Teflon kingpin system - less tools, ride smooth, pop high. 

Stance:540mm or 560mm.  You choose.

 7-Ply Multi-material cross barwith Fibreglass stringer.  All the strength, less weight.

6-Ply: Pro team designed footplates

Slick USA Version:Full Send Slick- A fast slide, smooth slide.

Graphics:Never-Wear Graphics, keep on sliding the graphics stay on.

Griptape: Included.
Specs

Ready To Ride Weight:

540: 7.18lbs/3.25KG

560: 

Board Only Weight: 

540: 4.6lbs/2.12KG

560: 

Assembled length: 

540: 35in/885mm

560: 35 3/4 in / 905mm

Max width:  9 7/8 in/252mm

Max Rider Weight: 250lbs/115kg
Shipping

Our boards ship from distribution centers in the USA, UK and EU. No import fees will be incurred in these zones. VAT may be added.

Any orders from elsewhere including the USA will be shipped directly from the USA and may incur import duties depending on the destination country's rules.
Best way to train for snowboard
I've been riding this board for a year and its so fun. It's tricky to learn how to move, but once you got it, the tricks and the bindings makes it the most similar sport to snowboard for off season. Glad I discovered them!
Great board
Much lighter than the Dimension board I had.
Lightweight but super strong
Riding this Board for quite a while now.
Really love how it feels.
I am a fan of the brand and people behind this product, but I'm not happy with what I received. I didn't get the color I ordered, and one of the straps broke as soon as I tried to ride it for the first time. I fixed it myself, and it is still fun, but I am not impressed with the quality or customer service I received.